On Shambhala
June 30, 2018 |
210 Comments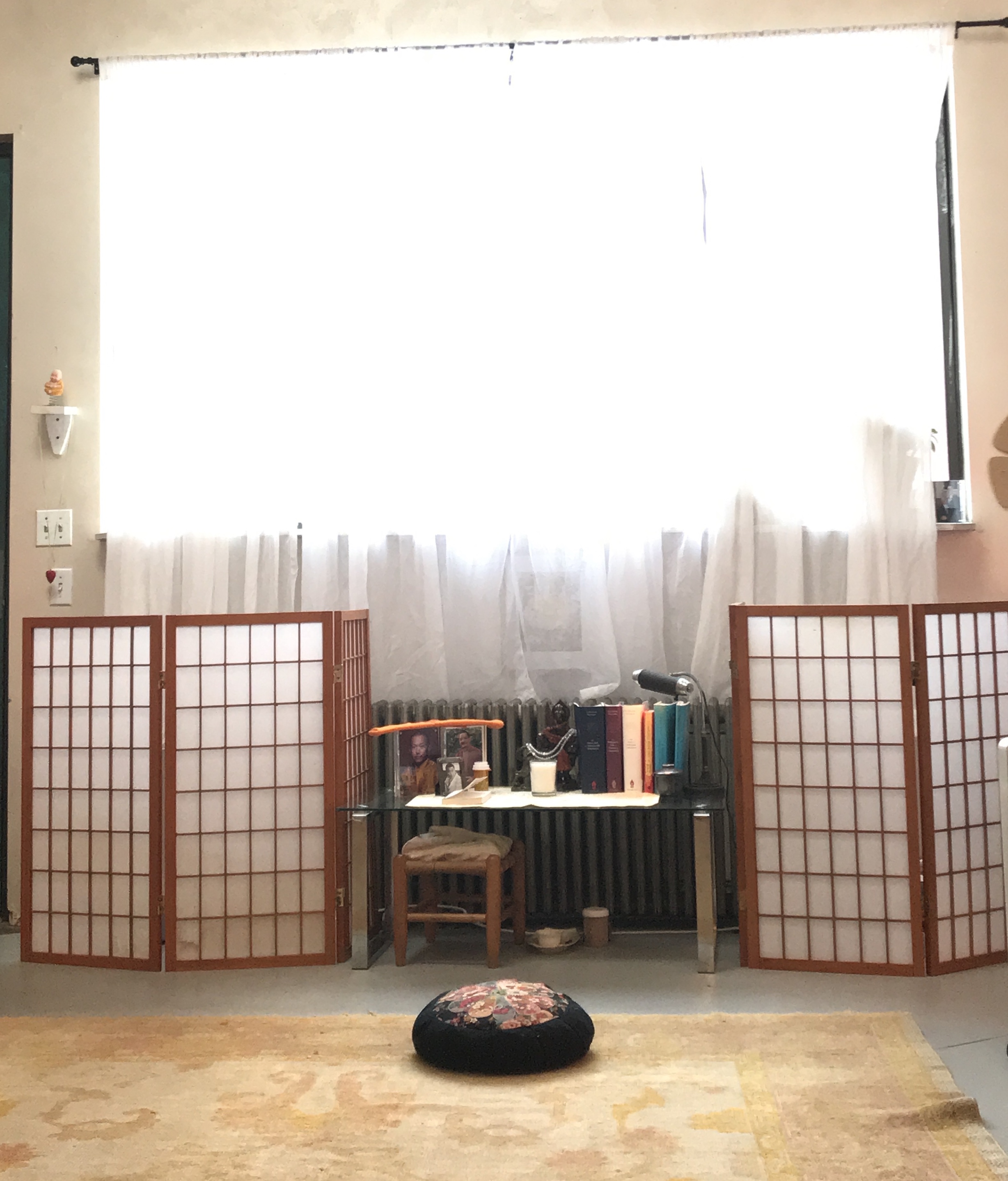 Dear friends, students, and Shambhala Sangha,
If you haven't heard, the head of my Shambhala lineage has been accused of clerical sexual abuse. The community is reeling. Whether you are in the Open Heart Project community or are a fellow Shambhala practitioner, I want to share with you my own thoughts and feelings about what is going on.
First, thank you to those who were brave enough to bring their experience to light. My heart goes out to you and I am grateful to you for being willing to step forward.
For those of you who don't know me: I have practiced in the Shambhala lineage since 1993, graduated from Vajrayana seminary (as it was called) in 2004, completed meditation instructor training in 2007, and attended several additional programs for "advanced" students between 2007 and 2015.
In 2011, I started an online practice community called the Open Heart Project and there are now close to 20,000 members all over the world. I send out a meditation instructional video once a week to everyone (for free). We have free and paid online programs. It is an amazing, loving, genuine sangha.
Everything I teach is what I have learned along my path as a student in Shambhala. I don't reference or hide my affiliation and I have no official role within Shambhala. I rarely teach at Shambhala centers and I'm not connected to the current curriculum. I say all of this for context.
---
So what do we do when we hear that our Gurus are also humans who do fucked-up things, awful things, things that harm others and cause trauma? The answer is I have no bloody idea. We are all grasping for a way to meet the current circumstance.
I have heard from my own students and have a longing to offer something of benefit, as do so many others. Here is what I have been telling them. I share it here with the vast hope that it might be useful. I will be happy if you benefit from my clarity or confusion. I offer both without quite knowing which is which.
---
Here are the various responses I've seen on the Shambhala Facebook page in an effort to make sense of where we are right now:
The Sakyong is a dick/criminal/bro/alcoholic, we need to fire him.
The Sakyong is a dick who is also a flawed human, we should separate those two manifestations.
I love the Sakyong and that is not going to change although I abhor what he has done.
I don't see what's so bad.

Like father, like son.
We need to force the Sakyong out; sign petitions; remove his photos; turn away from him completely. Hesitation in doing so to be interpreted as supporting the abuse.
Hierarchical structures and faux Asiana are part of the problem; Shambhala should be a democracy. We should vote for the next Sakyong.
The next Sakyong should be a woman.
Maybe Pema Chodron will come lead us.
Our alcoholic culture is the problem. 
This is samsara, what did you expect?
We don't need a Guru. (Related: the Guru is within; Gurus are always trouble; there is no such thing as a Guru; follow the teachings of the Guru not the personality of the Guru, and so on.)
Forget about Sakyong Mipham. The victims are the ones who need our attention.
You feel empathy for Sakyong Mipham? Fuck you. What about the victims, huh? Huh?
Shambhala is a cult and I am out. (Related: I always felt something was off and my intuition told me to stay away; I've heard stories that made me feel weird; it is riddled with patriarchal dysfunction)

He is guilty, guilty, guilty, screw "allegations." It's obvious. I am the judge, jury, and executioner, and I say off with his head.
I've been around him a lot and I never saw any such behavior.
I left Shambhala long ago and man, was I right to do so.
He's not my teacher and this is not my Sangha, but here are all of my dharma-opinions anyway.
It's over.
It's just beginning. 
Multiple invocations of the Four Dharmas of Gampopa, especially, "Grant your blessing so that confusion may dawn as wisdom."
Perhaps each of these responses is quite accurate. However, with the exception of the last one, they are useless (or worse) in this particular moment. Next steps are critical and what I see so far from our sangha (with some notable, profound, beautiful exceptions) feels dangerous—not because strong emotions are involved, but because some space is required in order for our wisdom to choose the way forward rather than our neuroses. With space, we plant our words and decisions in clarity. Without it, when our words and decisions are rooted in an attempt to feel better/make others feel better/offload painful emotions, we add to the confusion.
Here are some alternatives.
One: Examine your personal relationship to the teacher.
Editorial note on Jul 3: I removed this paragraph for three reasons. One, I realized it could easily be misconstrued as a way to excuse inexcusable behavior. Two, I was being wishy-washy. My reasoning was murky and more applicable to my relationship with Chogyam Trungpa than Sakyong Mipham. Chogyam Trungpa is not the issue here, Sakyong Mipham is. Three, it hurt someone's feelings and she was right to be hurt. I APOLOGIZE.
Two: Make your personal practice the very center of your life.
What I tell myself (and you) is this: Do what you need to do to deepen your practice. Period. That is the only thing that matters. If it is to practice for longer, do that. If it to retreat into study, do that. If it is to leave and study elsewhere, do that. If it is to be utterly confused and uncertain about what to do, do that. Your practice is the teacher. Your inner wisdom is always, always present.
Three. Protect your relationship to the teachings at all costs.
At my seminary, Sakyong Mipham tossed off what could have been heard as a throwaway line, but it implanted itself in my head. Paraphrasing: "In Tibet," he said, "When it comes to the Guru, the conventional wisdom is to live three valleys away." Three valleys! Close enough, presumably, to receive teachings and far enough to be insulated from the goings-on of the inner court/sausage machine. That's for me, I thought, and I have kept my version of that distance.
Four: Consider the institution and the teachings separately.
If you have lost trust in Shambhala, that is totally understandable. Some may even have lost trust in the teachings. In any case, it is important to hold Shambhala the institution separate from the Shambhala teachings. You may choose to keep both or to toss one and keep the other. Or opt out altogether. It is completely up to you and no one has the right to question your decision or tell you what to do.
Five: No one will save us.
I invite you to join me in contemplating the lojong slogan, "Abandon any hope of fruition." There is no papa who is going to save us. While there are countless beings who know infinitely more than I—and when I encounter them, I will supplicate them for their wisdom and compassion—there is no one who can figure out my life for me. To hear that the Guru may be deeply flawed gives us the chance to give up such expectations once and for all. Stop looking for someone to rescue you. Focus on what is rather than what you hoped would be. Stop wishing there was another now. In this way, you make your heart and mind available to our world that needs you so much. I'm not saying we should not hold perpetrators accountable. We most definitely should. Hold Sakyong Mipham accountable in the conventional courts if you choose, but hold yourself accountable in the ethereal courts.
Six. Hold your seat.
"Feel the feelings. Drop the story," said Pema Chodron. It is very important to do this at a time when emotions are powerful. The more powerful, the more important. Fortunately, as practitioners we know exactly how to do this. Whether you feel rage, sorrow, numbness, all of the above, turn toward it immediately and lean in as deeply as you can—unless you are traumatized and/or triggered due to past abuses, in which case, DO NOT DO THIS. Meditation may actually be harmful. Please turn to whomever you can for help and feel the love of your sangha in whatever way you can. And know that my heart goes out to you so bad.
Otherwise, "feel the feelings" means something like locate it in your body and rest within the sensations as best you can. When thoughts arise: The Sakyong should be fired/we live in a patriarchy/I feel so sad for everyone…just as you do in meditation, let go. Return attention to the feelings until you are ready to stop. Trust yourself. Know that in so doing, you are priming the ground of power, not desperation.
Seven. Dudes: check yourselves.
I haven't exhaustively parsed the vast kaleidoscope of comments on the Shambhala Facebook page, although I have been following the threads as carefully as I can. Some things I've read have been truly helpful while others have really pissed me off or made me depressed. Cool. That's how these things go. However, I can't help but notice that the majority of voices calling for unilateral moves, making demands, and telling others what to do come from our friends with penises.
Men. Thank you for decrying the patriarchy. However, I would like to suggest that you consider taking yourselves out of the center of the conversation by asserting black-and-white opinions, calling for reprisals, airing condemnations, circulating petitions, and so on. Try to listen. Let other voices come to the fore. Consider asking more questions and issuing fewer proclamations. Many have said they wish for more female/feminine energy voices. This is one way to accomplish that. Otherwise you're not going to get these voices to step into the conversation. This is not because we are fragile and we certainly do not need hand-holding but because the conversation will simply arise in a different way if you stop dominating it via edicts and mansplaining.
This is 101% my view and if my sisters and brothers want to dispute me on this, that would be awesome.
Eight. Stop aiming your weapon at yourself.
This is something I have seen so many times, in myself, you, the planet. When we are upset about something, we do that exact thing in response. If it wasn't so painful, it would be really funny. A made-up example:
Person 1: What you just said is so judgmental. Who made you the judge and jury? Stop telling me what to do.
Person 2: Wait. You just did all of those things.
Obviously, this is a silly example. but I have seen so many instances where we do exactly what we tell other people to stop doing and then wonder why the conversation isn't going anywhere.
Nine. We're on our own. And that's okay.
It may seem like now we are on our own and it is up to each Shambhala person to bring the heart of the teachings to the world. It is true. But this has always been true. In no way is this meant as an excuse for the behavior attributed to Sakyong Mipham or to bypass the suffering of anyone who may have been harmed by him (which, to varying degrees, would be all of us). Do whatever you can to bring the teachings to life in your world with the support of the three jewels, however they arise for you.
You got this. And speaking on behalf of all humanity, I implore you to take your seat with wisdom, compassion, and power.
Finally, please know that I am reevaluating my relationship to Shambhala (the institution, not the teachings). I don't know what the future holds for me, although I am committed without question to the dharma, to you, and to my path as a student and a teacher.
I offer this post, not as an activist or jurist, but out of spiritual friendship. May it be of benefit.
Good luck everyone.
Love, Susan
categorized in: Culture, teaching