Love in the Time of Crankiness. Part One.
November 3, 2016 |
15 Comments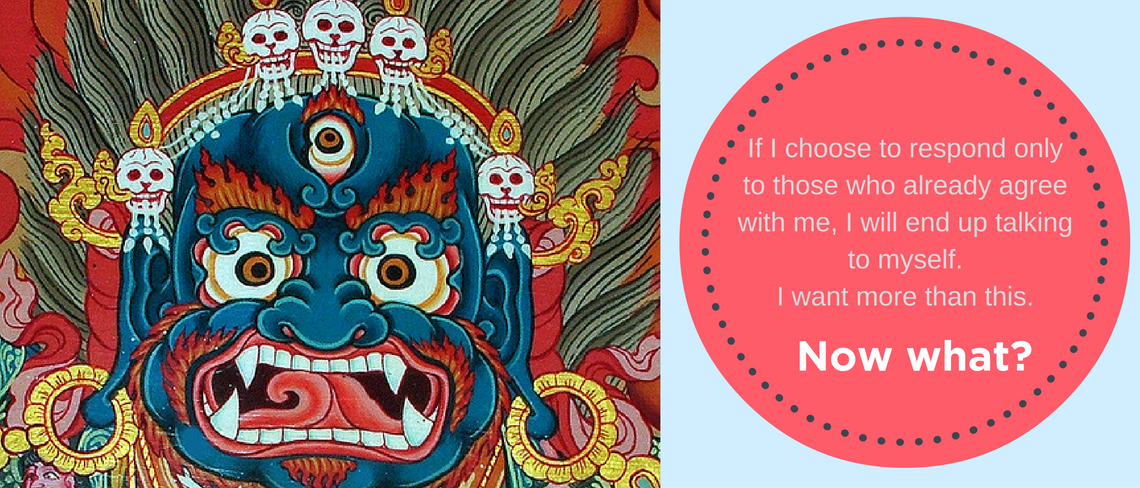 As a writer, blogger, Buddhist teacher, and self-employed person who depends on her web presence for all sorts of reasons, I have often heard this admonition: Ignore flamers. Don't respond to anyone who wants to fight with you or challenge your position unless they are polite and measured. Do not react to aggression, ridicule, shaming, insults, projections, and taunts. Delete, delete, delete.

I disagree. I do respond.
The first time I was attacked online, here is what happened.
I sent out an announcement to my email list to say that I would now charge for something I had offered for free (for three years). Instead of sending out three free guided meditation videos per week, I told them, I was going to cut back to one (still free). To continue to receive additional material from me, I invited everyone to become a member of my online community at the cost of around $20 per month.
This caused a small but vitriolic sh*t storm. While the vast majority either said nothing or became a member, some percentage was extremely angry with me. One woman wrote (and I paraphrase), I thought you were different, but it turns out you are just like all the other charlatans out there. You don't really want to help people, you just want our money. Bait and switch. I can't believe I fell for it. Fuck you and I hope you are happy ripping people off through your lies. You can just laugh it off with your friends Deepak and Oprah. (Yes, that was said.)
This was the general theme of the upset emailers: you lied, you are greedy, fuck you.
Wait. I had been creating and sending out free videos for three years. I was furious about these accusations and really, really hurt. Shocked. How could a person receive so much from me, use it, appreciate it, and then imagine it was all a big trick?
I sat at my desk and cried. I wanted to quit everything but first I wanted to say to her: You bitch! I have offered you so much. How can you be so mean? So ungrateful and judgmental? Of course, sending such a response was out of the question. (Headline: "See Buddhist Teacher Exhibit All Three Poisons in One Email!") I was about to hit "delete" on her message (as everyone counsels), but I couldn't. Instead, I responded with this:
Reading your email upset me so much and made me feel very discouraged. I've been doing this work (that I love) for free for so long — but I have bills to pay, a family who depends on me, and the wish to live indoors in my old age. I am not saying this to get back at you, but to let you know that words have impact and this is how yours impacted me. I am really hurt. I wish you well, Susan
I was 100% sure that would be that. I was wrong. Here is the response I received, almost immediately (paraphrased):
You hurt my feelings too. I have come to depend on these meditations and I can't afford to continue with them now. They helped me and now they are gone and that is how you upset me.
Okay! Now we are getting somewhere. Instead of "you bitch, no, you bitch", we had two people with hurt feelings. There is no way out of the "you bitch" conversation, but "we're both hurt" has much possibility. I wrote back that I was glad she found the meditations helpful and asked her how much she could afford. Whatever it was, I would honor it for six months and, if at the end of six months, she was still in dire straits, we could continue. She responded with gratitude. I responded with warmth. It was all different.
What caused the shift? We each expressed something genuine without, and this is very important, an agenda. I mean, you can't be genuine and manipulative at the same time. Rather than trying to hurt each other, we simply admitted how we felt. We didn't change each other, but we changed the tone of our exchange. An enemy became, not a friend exactly, but a non-enemy.
In this moment, I decided not to abandon the cranky.
Now, about two years on, I have responded to nearly everyone who wants to fight me. (A number that increases the more I promote non-fighting, by the way. Compassion for those who scare or anger you really upsets people.) (I digress.) I have ended up in a similar dialog with around 80% of those I engage. It is not fun. It is exhausting. But it is worth it because 80% of people stop disliking me and I stop disliking them.
If I choose to respond only to those who already agree with me, I will end up talking to myself. I want more than this. Since the world's ills, according to Buddhist thought and basic common sense (not to mention a cursory review of the entire scope of recorded human history), are made worse by dividing humanity into us and them, I can't in good conscience make this division. Peace is rooted in good relationships. Good relationships are based on units of two, me and you. It is that simple and that labor-intensive. Today, right now, you — no matter how kind, cranky, crazy, or vicious you may be — are my chance to create peace. I will take that chance.
categorized in: fighting without aggression, meditation, open heart project