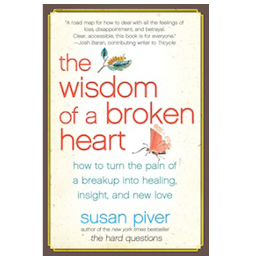 A 4-week online course with Susan Piver, Buddhist teacher and author of The Wisdom of a Broken Heart
When it comes to a broken heart, Buddhism has much to teach. It has guidance for how to survive and make your heart stronger in the process. It can help assuage the symptoms of lost love: obsessive thinking, shame, and distrust in love itself. Perhaps most important, it can help you to love yourself once again and with this, all things are possible.
Join author Susan Piver for a 4-week online course on the mindful approach to heartbreak and love, based on her book, The Wisdom of a Broken Heart.*
Our tools will be:
Meditation (instruction will be offered)
Guidance for establishing a daily practice
A 3-part journaling exercise to bring understanding and closure
Rich discussion
Practical tools for keeping your heart open, soft, and powerful
Curriculum:
Class 1: Relax: Calm anxiety and obsessive thinking: Introduction to meditation practice and its relationship to heartbreak
Class 2: See Where You Are: The Four Nobles Truths of Love: Reconsider what it means to love and be loved
Class 3: Be Where You Are: Reclaim Your Seat
Class 4: The Big Switch: The Practice of Loving Kindness for Self and Other
Space is limited, please register today to secure your spot.
No cancellations.
Free for Open Heart Project Sangha members. (Click here  to learn more about the Sangha and how to receive this and other programs for free.)
Participants will receive a recording link to each online class within 24 hours, so don't worry if you can't participate live in each class.
Course materials will be available for use for 120 days from registration date.
*Reading the book would be helpful, though it is not required.