Lojong Slogan 8
February 24, 2020 |
Leave a reply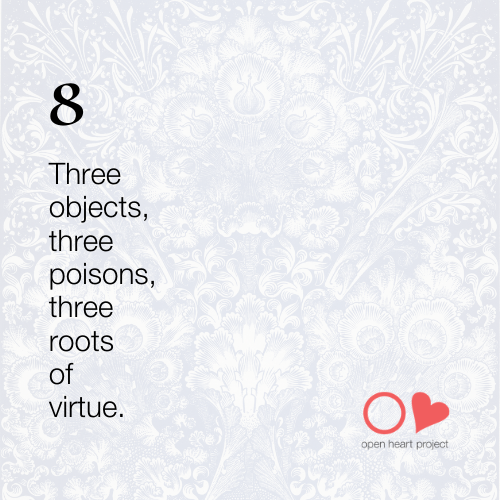 In 2020, the Open Heart Project sangha is exploring the 59 slogans of Atisha, one per week. These slogans are also called lojong (or mind training) practice. They are exceptionally dense. So much meaning is packed into each slogan. Their meaning is not understood through the intellect. Rather, it is arrived at through contemplation.
.
How is contemplation different than thinking about something, you might wonder. On one hand,  "thinking about" can have the quality of dissection, as in "let me boil this down to manageable pieces." On the other hand, "thinking about" can be confused with "introduce a narrative structure." We expand out from the original input to overlay a meaning. Both of these "hands" are useful, but they are not what is meant by contemplation.
.
Contemplation is neither reductive nor enhancing. It is more mysterious than that. In my Buddhist training, the instruction I received for contemplation practice is very simple: First, sit quietly for a few moments. Then, bring to mind whatever you'd like to contemplate. It can be a question (how do I feel about this?), an idea (I could move to New Orleans), or a spiritual teaching (such as  this week's slogan: three objects, three poisons, three seeds of virtue). Let the words echo in your mind and notice any feelings or associations that arise in response. If you start to digress into anything resembling a conclusion, appreciate it, then let go and return attention to the words you are contemplating without–and this is crucial–an agenda. See what happens next. And after that. And that.
.
Contemplation is about noticing what is revealed rather than driving toward any conclusion.
.
Which brings us to the current slogan.
.
The three objects are the three categories into which we slot every being, circumstance, or object we encounter: friend, enemy, or neutral.
.
The three poisons are what we feel in reaction to each object: grasping (or attachment), aggression, or indifference.
.
The three seeds of virtue come about when we separate the object and the poison. In other words, you may feel quite attached to a loved one. Nothing wrong with that. The idea here is not to stop feeling attached, whether kindly or neurotically. Either way is fine. Rather, the instruction is to release the object of attachment (or aggression or indifference) and rest attention on the feeling of attachment (or aggression or indifference).
.
What happens when poison and object are released from each other's orbit?
.
The poison disappears.
.
DON'T TAKE MY WORD FOR THAT. Or anything, really. Try it yourself and see.
.
For more on this and the other slogans of Atisha (and a weekly guided meditation), please think about joining the Open Heart Project sangha. It is a beautiful community of good-hearted, independent-minded spiritual seekers. If you've read this far, you belong there!
.
Lots of great stuff is coming up for the sangha, most particularly a 9-month investigation of core principles of the Buddhist path that starts on March 2. It is taught by the esteemed Buddhist teacher and author Michael Carroll. Free for sangha members. Click here to join.