Lojong Slogan 6
February 24, 2020 |
Leave a reply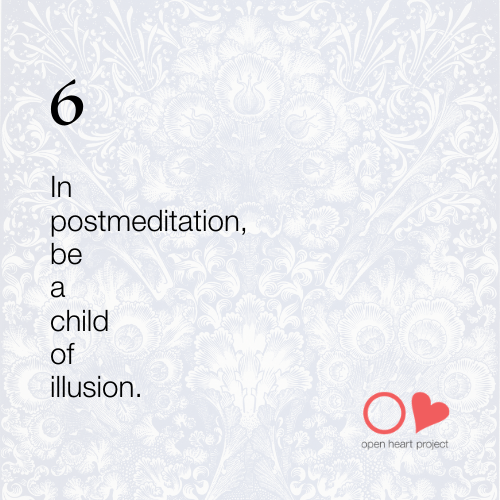 Over in the Open Heart Project sangha, we are engaged in an ancient practice called lojong or mind training. In this practice, we train our minds through the contemplation of slogans. There are 59. This week, we are on slogan #6:
.
"In post-meditation, be a child of illusion."
.
Two questions arise immediately.
.
First, what is post-meditation? One might think it means whatever you do after your meditation practice has concluded: your work and family, your responsibilities, joys, hassles, and dreams. One would be correct in all aspects but one: your practice has not concluded, it has simply extended beyond the cushion. Post-meditation is as much a practice as meditation-meditation. Instead of seeing spiritual practice as something that happens by working with our mind while on a cushion, in silence, and for a limited period of time, we find that spiritual practice is also something that happens by working with our mind while at work, making a meal, sitting in traffic, arguing, kissing, spacing out on the couch, and falling asleep at night. It is everything. So, we have meditation (the formal practice) and post-meditation (everything else). There is nothing that is outside the scope of spiritual practice.
.
What does it mean to be a child of illusion? That sounds trippy. But "child of illusion" and "hippy-baby" are not the same thing. It means something more like "don't believe everything you think." Appearances are illusory…what is beyond them? And what is beyond beyond them? And beyond that? These are good questions to hold against everything and everyone you encounter. If you ever arrive at an answer, immediately repeat the questions. Repeat, repeat, repeat. This is how to be a child of illusion. It is also how to be awake, present, and connected to the cascading phenomenological waterfall known as reality.
.
In other words, then, slogan #6 suggests that once you get up from practice, bring your spacious, flexible, curious mind with you. Instead of looking for the right answers, look for the right questions. Watch all the inner doors open. This seems to be how transformation occurs.