Lojong Slogan 11
March 16, 2020 |
2 Comments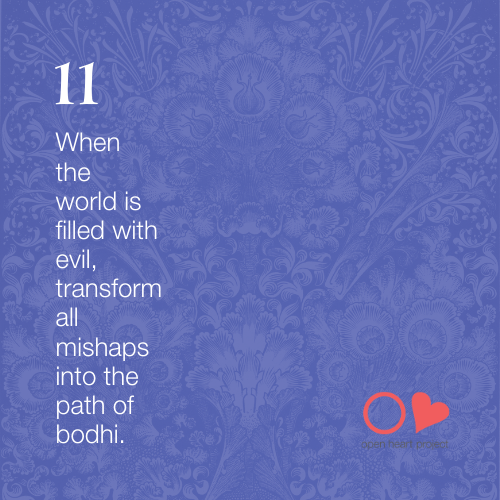 I hope you are well and healthy and the same is so for all your loved ones.
When I was thinking about this week's slogan in light of all the coronavirus anxiety, I thought for a moment to offer something more immediately relevant than a thousand-year old slogan. Until I realized that this week's slogan is exactly that.
I realize it may not sound that way. World filled with evil? Transform mishaps?
First, "evil" is meant to connote obstacles and challenges in general. It is "evil" without the moralistic element. This is a very important distinction. Second, "bodhi" means awake. This slogan is instructing us to turn difficulties into moments of awakening.
How do you do that? One place to start is by turning toward what you feel rather than only seeking to escape it. Don't get me wrong–sometimes we need to tune everything out to preserve our strength! (I've been preserving my strength by watching Pride and Prejudice for like the 7th time.) We turn difficulties into moments of awakening by recognizing that we are human beings who can become scared, anxious, and sad—and remain steady. It is disempowering to avoid our feelings. We shrink into an ever-smaller space, imagining that we can escape pain if we just don't look at it. Trust me, I have tried this. It doesn't work. What makes you strong is to take on what you feel, no matter how uncomfortable. (IMPORTANT CAVEAT: Unless you are battling trauma–this requires something different. OK?)
The other day, someone posted on Facebook, "What can you do to calm anxiety" and the only answer I could think of was, "help someone else." Not because I'm a super nice person–I'm not, but because experience has shown me that when I turn my attention to kindness, I reconnect with my power. It's really quite selfish. And not.
Finally, it is very tempting to abandon dharma at difficult moments. The dharma, whether Buddhist or otherwise, is not only an intellectual pursuit. It is real instruction for how to live. Rather than putting the dharma on hold, we now put it into play fully and to the best of our ability.
Therefore, this week's slogan could not be more perfect.
In 2020, the Open Heart Project sangha is exploring the 59 slogans of Atisha. For more on each slogan delivered right to your inbox (plus daily 10-minute meditations) please join the OHP Sangha.
categorized in: OHPS, open heart project