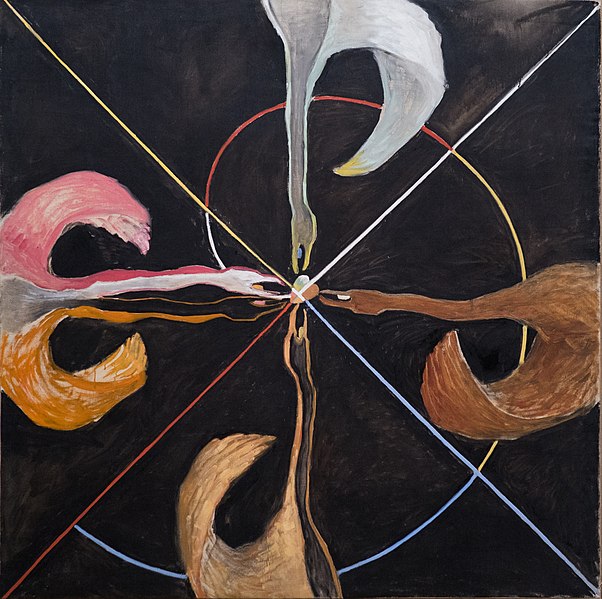 Hilma af Klint – Group IX SUW, The Swan No. 7
Many of us come to meditation practice hoping to sand off our rough edges or to become more mindful "zenny" people. But no matter how much we sit we seem to remain frustratingly ourselves. Enter the Tibetan teachings on the Five Wisdom Families. These five energies give us a playful, fascinating framework to examine how the very difficulty we wish to escape is not fundamentally separate from the wisdom we hope to cultivate in our lives. Utilizing secular art images as entry points to better understand these natural energies, we will contemplate how our unique personalities can act as tools for bringing wakefulness into the world.
Y O U R   T E A C H E R — K E V I N   T O W N L E Y
Kevin Townley is a writer/performer, and has been studying Buddhism since 2010. He currently practices with the Sokuko-Ji Zen community under the guidance of Kyoun Sokuzan. Kevin completed the Interdependence Project's teacher training program in 2012. He is passionate about exploring the interplay of meditation and art-making while encouraging others to bring their own innate humor and insight to their meditation practice.
Schedule:
10:00-10:45 am ET: Intro/Shamatha Meditation Instruction/Q&A
10:45-11:30 am ET: Buddha & Vajra Families
11:30-12:00 pm ET: Break
12:00-12:30 pm ET: Meditation/Q&A
12:30-1:30 pm ET: Ratna, Padma & Karma Families
1:30-2:00 pm ET: Q&A
What's the cost?
OR
FREE for Open Heart Project Sangha members. To find out more about the Sangha, please click here.
OHP Sangha Members Register Free Here
This workshop will be recorded and a link sent the next day.
If you can't attend live, you can still view the class.
Registration includes access to my newsletter with ongoing support for your spiritual journey.
Hope to see you there!
Love, Susan
Program access is available until September 15th.
If you have any questions, please feel free to email Lisa at lisa@openheartproject.com