We are very excited to invite you to the final gathering of creatives in 2020.
It is obvious that The Open Heart Project is a community of creative people.
Creative people need one thing above all else: Time. (More specifically, uninterrupted time.)
Creative people need one thing above all else: Space.
Creative people need one thing above all else: Meditative Awareness.
Creative people need one thing above all else: a non-invasive, trustworthy community of support.
Okay, creative people need a lot of things, a lot of support. It's very hard to engage in activities with no obvious outcome or guaranteed result.
Creative people also know in our bones that it is just such activities that offer us, and the world, the greatest meaning and satisfaction.
Evidently, one of the main reasons people feel depressed is because we do not have time for creative expression and our work (the bulk of how many of us spend our time) is not something we find meaningful or useful to humanity.
Most of the world cares very little about the time and space and quiet any creator must carve out (and sometimes epically defend) in order to do our work.
Perversely, the world cares very much about the result.
These gatherings will not be workshops or forums for sharing work. They will be forums for sharing space; time; meditative awareness and wisdom; presence for each other. Collectively, we will create an environment where we can all explore whatever it is we know we need to do our work.
Whether your work is thinking, feeling, dancing, mathing, cooking…it is the quality of time we spend with each other and, therefore, ourselves that can radically shift our relationship with our creative selves; how we create or how we relate with what we create. Or ALL of that!
Whatever your discipline or interests are, we are here to support each other in the magical, radical, primordial work of creating. It is our birthright.
Let's do it!
YOUR INSTRUCTOR: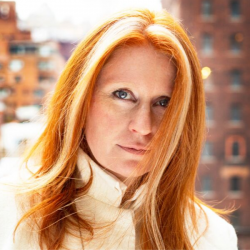 Crystal Gandrud is an experimental writer based in London. Recent work includes the upcoming Chewbacca, Thin Air magazine, Yeatsian: We the Numberless Dreamers, The Encyclopedia Project, vol. 3, 2017; and Here, The Brooklyn Women Anthology, 2019. In artistic collaboration with artist Nuala Clarke, she has created many 'installation-novels' such as Numberless Dreams, Hamilton Gallery, Ireland; Fair Shouldered One, l'Université de Sorbonne, Paris, and As Above, So Below, Linenhall Arts Centre, Ireland. She is also the creator of Dream of the Drawing for Everything, an online installation concerning the oneiric. In 2017, she co-founded Lionheart Press with Susan Piver. The Lionheart mission is to introduce marginalised Buddhist thought-influencers to a more mainstream audience. She has practiced Tantric Buddhism for twenty-five years.
ONLINE SCHEDULE:
11:00 – 11:30 AM ET meditation instruction and practice
11:30 – 11:45 AM ET how today's practice will go
11:45 – 12:15 PM ET survey the terrain, then begin to or continue to make something
12:15 – 12:45 PM ET break for lunch or tea or bath or freak out
12:45 – 3:30 PM ET short sit (10 minutes); get to work
3:30 – 4:00 PM ET meditation and closing
SIGNUP COMING SOON!
Questions? Please contact my assistant Lisa here.