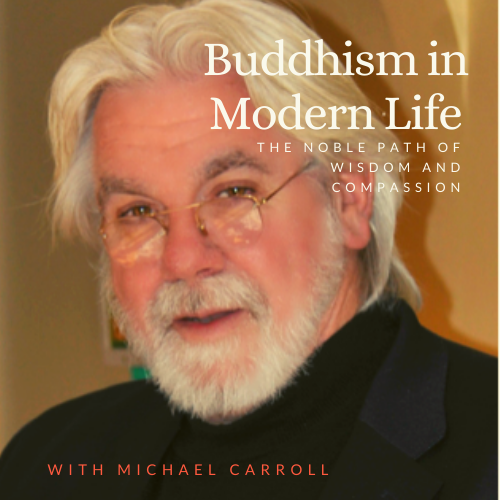 The Open Heart Project is extremely proud to present a 9-month online exploration of core Buddhist teachings and how to apply them in everyday life.
Over the course of nine gatherings (the first Monday of each month, beginning in March 2020), students will meet with Michael Carroll, an authorized teacher in the Kagyu-Nyingma lineage of Vajrayana Buddhism and the author of Awake at Work (2004), The Mindful Leader (2007), Fearless at Work (2012) and Mindful Leadership Training (2016).
Each gathering will start with meditation and explore a particular topic as presented by Michael, followed by conversation. There will be assigned readings between sessions.
The source material is the 3-volume Profound Treasury of the Ocean of Dharma by Chogyam Trungpa.
Who is this for?
Buddhism in Modern Life is for anyone who wishes to explore essential principles of the Buddhist path. Suitable for all. Whether you are interested in an introduction to Buddhist wisdom or are deeply engaged in Buddhist practice, Michael's teachings will offer you the chance to go deeper.
Members of the Open Heart Project will recognize key themes and the language used to describe them from their study with Susan. This program will not be a departure but a deeper look at the path you are already on.
The Curriculum
Class One
March 2
The Path of Buddhist meditation
Some basic ground rules
Why is Buddhism referred to as a "Non-theistic path?
How does a practitioner apply the four norms of Dharma?
What does it mean to be a "Dharmic Person"?
Class Two
April 6
Sitting Still
Why would we do such a thing?
What does it mean to "take refuge in the three jewels"?
What is the role of motivation in practicing mindfulness awareness meditation?
What happens at the end of an outbreath?
Class Three
May 4
The Wheel of Life and Death
Unraveling the struggle of self-deception
According to the Buddhist path, what is the cause of suffering?
Why are the four truths referred to as "Noble"?
What is "shinjang" and how does it manifest in our daily conduct?
Class Four
June 1
Being Authentic in an Increasingly Artificial World
Glimpsing the skillful rawness of bodhi mind
How does vipashyana unfold from shamatha?
What is "egolessness"?
What is "Prajna" and how does it unfold from vipashyana?
Class Five
July 6
The Bodhisattva Path
How meditation unleashes natural tenderness
How do ultimate and conditional Bodhi Citta arise for those on the Buddhist path?
What does it mean to take the "Bodhisattva Vow"?
How do the "four factors of Mahayana mentality" come alive in everyday life?
Class Six
August 3
Rediscovering Reality
Becoming familiar with timeless emptiness
Describe your experience of "emptiness"?
How does non-aggression reveal wakefulness?
What is the relationship between prajna and emptiness?
Class Seven
September 8*
Tathatagarbha
Expressing our Buddha Nature
How is "Buddha nature" different from "Bodhi Citta"?
Why can't stainless Tathatagarbha be cultivated or achieved?
Describe "Basic Goodness"
*note: this class will be held on a Tuesday as Monday, Sept 7 is a US holiday
Class Eight
October 5
The Three-Yana Approach
Exploring the possibilities of Vajrayana
What is the "three-yana approach" to traveling the Buddhist path?
What makes studying the Vajrayana different than other Buddhist paths?
Why is the Vajrayana path considered dangerous?
Class Nine
November 2
Formless Meditation: Effortless Effort
Bringing the teachings alive in everyday life
Describe the four foundations of mindfulness

Recordings
Each class will be recorded and all participants will receive the links via email. Students will have access to the full series of recordings until February 1, 2021.
About the Open Heart Project
Led by New York Times bestselling author and Buddhist teacher Susan Piver, the Open Heart Project is a full-on mindfulness meditation center that lives in the cloud.
We are different than other virtual meditation platforms.
We are not an app. We are a community.
We view meditation, not as a self-improvement hack, but as a path to love, creativity, self-compassion, and a life based on the truth of who you really are.
All the features of the OHP are listed here …but no list really captures what makes it so special. Beyond meditation videos, helpful teachings, a deeply supportive community, and skillful teachers, it is for anyone who wants to live in a world where peace, kindness, creativity, and sanity are prized above all.
How to Participate
This program is FREE for members of the Open Heart Project Sangha. If you are a sangha member, click the button below to reserve your spot.
You may join the OHP sangha here to take this and other courses, study with a variety of Buddhist teachers, receive meditation audios and videos, and participate in online meditation retreats.
OR
Click the button below to reserve your spot in this program for $299.